Last night, we went to
The Loft
to partake of their weekly Mondo Monday feature. In the past we've enjoyed some pretty bad movies on Mondo Mondays. This week's exercise in terribleness was
Petey Wheatstraw: The Devil's Son-In-Law
(1978), starring the greatest poet in all blaxploitation cinema,
Rudy Ray Moore
(star of that black Kung Fu classic, of
1975 Dolomite
). Calling Moore a poet is sort of an in-joke for blaxploitation fans. After all, how many words can one find that rhyme with 'motherfucker'. I mean, once you've exhausted the obvious ones, like 'sucker' and 'trucker', what's left that doesn't feel like a long stretch?
But we did not laugh our asses off at this Rudy Ray Moore wonder by ourselves. No, we were lucky enough to meet our good friend, fellow writer/editor, and general all around horrorhead,
R.J. Cavender
.
We got the big red leather sofa right up front, sat back, with our cold beers, and spent almost two hours rolling on the floor as Moore rhymed, sneered, danced and kung-fu asskicked his way through the film.
If you've never seen the movie, it's about a standup comedian named Petey Wheatstraw, who just happens to be one stone cold motherfucker of a ladies man and a badass street fighter (taught ancient martial arts by an elderly bum, don't you know), and a highly successful, if foulmouthed, comedy genius. But he's so good, see, that he's ruining business for a couple of 'fat, lardass, no good motherfuckers' called Leroy and Skillet. So naturally they have him killed by some ghetto hitmen. But the devil, Lou Cipher, makes a deal with the dead Petey. If he will only marry his 'ugly ass' daughter (a woman so ugly, in fact, that Petey suggests she could scare daylight away) and bear him a son, then Old Scratch will bring him back to life so he can get revenge. Petey agrees, although he dreads the eventuality of marriage to the ugly daughter. Lou Cipher also gives Petey a magic pimp cane, something to give him as much power as himself, in his plot to gain vengeance.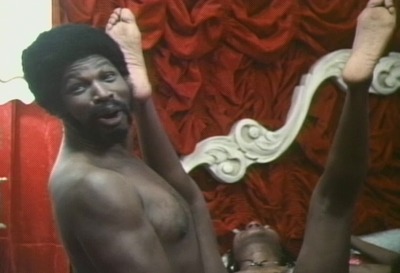 Well, there's a lot of fake fighting, boom mics in the shots, really terrible acting, and just plain general blaxploitation fun, until Petey gets his revenge and the devil attempts to exact his part of the bargain. Petey tries to outsmart the devil, but the old guy isn't as dumb as he looks. Needless to say, by movie's end Petey pays the devil his due.
I ad a great time, and I'm sure RJ did as well. However, I'm not so sure Kim had as good a time. Her response when I asked if she liked the movie was a decidedly glum, "I didn't get it."
And that, as good as any phrase, sums up the fact that you either understand what makes a movie like Petey Wheatstraw hilarious or you don't. It's fun, filthy, most definitely not PC in the least, and they do NOT make them like that anymore!
Oh, well, perhaps we'll have better luck Wednesday night for the 50th Anniversary presentation of
Alfred Hitchcock's 'Psycho' (1960)
, a film that pretty much created its own sub-genre of horror and thrillers.
--Nickolas Cook