Finally,
The Loft
announced the lineup for their annual
ALL-NITE SCREAM-O-RAMA 2010
. Some great titles this year. I'm really looking forward to this one—although we'll probably skip Cannibal Holocaust; I'm not into watching animals being killed for my entertainment.
If you're in the Tucson area on August 13th, stop by and join in the fun, with a bunch of horrorheads enjoying the best things in life--horror that doesn't suck!
CANNIBAL HOLOCAUST / 30TH Anniversary (1980)
The original "cannibals in the jungle" gross-out shockfest from Italian filmmaker Ruggero Deodato, guaranteed to make you lose your lunch. Banned in over 50 countries!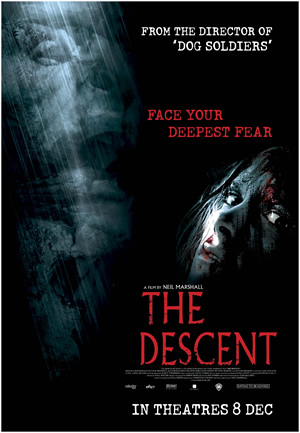 THE DESCENT (2005)
Neil Marshall's terrifyingly claustrophobic thriller pits tough female spelunkers against cave-dwelling albino freaks, hundreds of feet below the ground!
THE HOWLING (1981)
Werewolves run amuck in Joe Dante's frightening, funny and downright freaky lupine horror flick! Featuring pulsating SFX from the legendary Rick Baker and Rob Bottin!
THE BROOD (1979)
The one-and-only David Cronenberg spins the charmingly disgusting tale of divorced parents and their monstrous mutant children! You'll never look at fetus the same way again.
SQUIRM (1976)
Mother Nature gets her nasty revenge on mankind with a little help from millions of slimy, squirmy killer earthworms in this creepy-crawly shocker from Blue Sunshine director Jeff Lieberman!
TEXAS CHAINSAW MASSCARE PART 2 (1986)
The buzz is back! Tobe Hooper's insanely over-the-top sequel to his original terror-fest features the legendary Dennis Hopper battling Leatherface and the whole happily depraved gang in a bloody dust-up of chainsaws, severed body parts and bad-ass barbecue!
--Nickolas Cook